As netizen reacts to Inaaya picture on Saba Ali Khan Instagram post, here's how she gives the feedback!
Saba Ali Khan posted a picture of her niece Inaaya on 8th August.
Saba Ali Khan came again with a new Instagram post of her family member. This time, it's an adorable picture of her niece Inaaya Naumi Kemmu, the daughter of the actors Soha Ali Khan and Kunal Kemmu. While others were leaving heartfelt comments on the post, one of the users commented that Kareena Kapoor and Saif Ali Khan's son Taimur Ali Khan is the most handsome child, and Inaaya is innocent. Taimur and Inaaya are some of the most loved star kids in Bollywood, and their cute moments go viral in no time on the internet. The fans adore the little munchkins.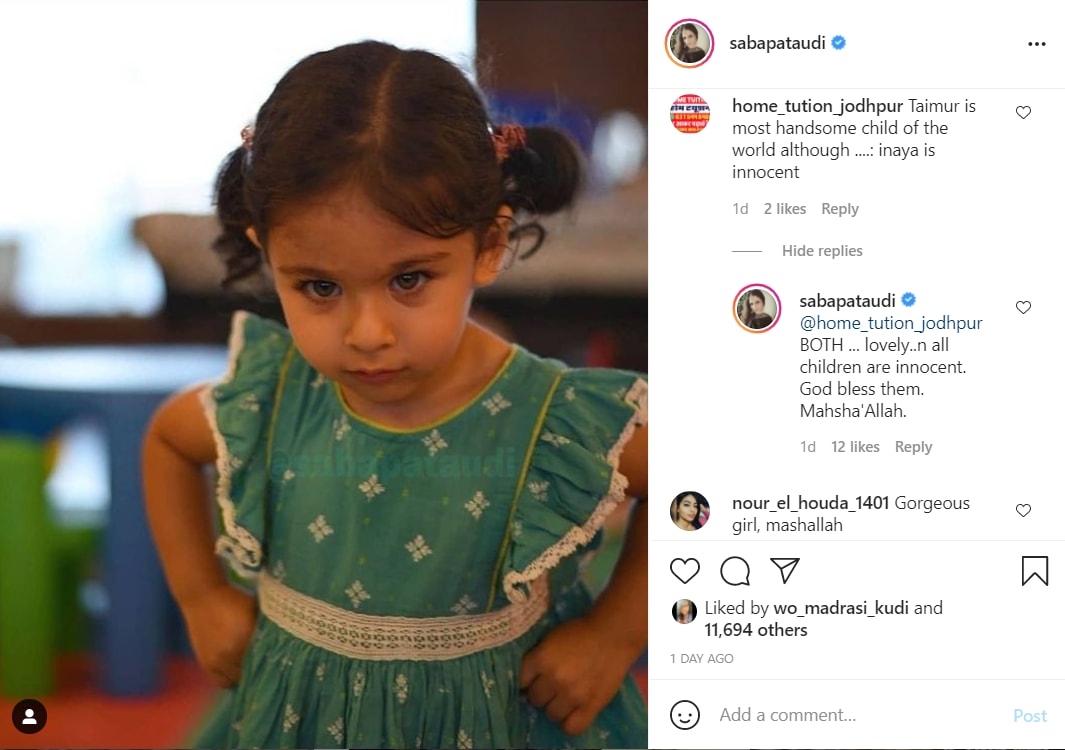 Image credit: huntdailynews.in
Saba took to her Instagram account and shared a cute picture of Inaaya. She was holding an adorable angry expression with her hands on the hips and wore a beautiful green frock. Saba wrote in the caption, "Why haven't you posted my pic Aani?? MY Inni….Jaaaaaaan. Mahsha'Allah. Dressed by me. Love my munchkin."
One Instagram user commented, "Taimur is most handsome child of the world although inaya is innocent." Saba replied, "BOTH … lovely..n all children are innocent. God bless them. Mahsha'Allah."
Last month, a fan wrote to Saba, saying that she seemed to love her niece Sara Ali Khan more than nephews Ibrahim Ali Khan, Taimur and Jeh. She replied, "@eeshalvishanaholic and Inaaya. LOTs too…. All my babies."
In the previous month, Saba was also irked when a fan page of Sara used a photo posted by her and replaced her watermark with their own. "Very bad form to use my original photograph and use as another account. I won't share Sara's baby pictures in the future. I demand a retraction," she wrote on Instagram Stories. Since then, she has been sharing all family photos with her watermark prominently on them.
---
Watch Bigg Boss 15 latest promo: